Fronarth Showman
Champion Lampeter Stallion show
Twice Champion Glanusk Stallion Show
Champion London Gold Shrewsbury
Champion Three Counties Malvern,
2nd Royal Welsh
and many other championships at county and local shows.
Fronarth Showman
Gwelfro Tywysog
Brenin Dafydd
Synod Frolic
Fronarth Rosebud
Parc Marvel
Peris Tiwlip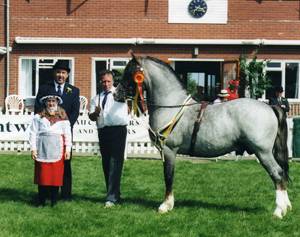 ---

Gwelfro Tywysog
Exceptional winner in harness winning 11 years in a Row and winning both the in hand and harness class at the Royal Welsh on the
day he retired from the ring.
Gwelfro Tywysog
Brenin Dafydd
Cahn Dafydd
Fronarth Flora
Synod Frolic
Tydi Cerdin
Sodylt Gold Dust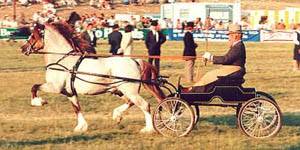 ---

Fronarth What-Ho
Won the Harness Class 18 times, was Champion numerous times and won the Tom & Sprightly Cup twice.
Fronarth What-Ho
Dinarth What Ho
Faraam Mercury
Dinarth Darling
Fronarth Queen Bee
Brenin Gwarlia
Fronarth Beauty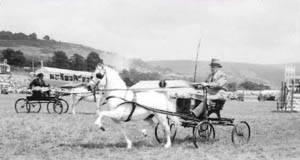 ---

Fronarth Demonstrator
Demonstrator was sold to Northern Ireland and proved a consistent winner of the harness classes for his new owners.
Fronarth Demonstrator
Fronarth Welsh  Jack
Cahn Dafydd
Fronarth Queen Bee
Fronarth Quickstep
Gelfro Tywysog
Cascob Chorus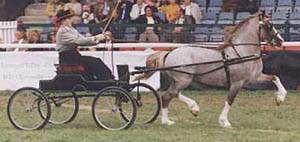 ---

Fronarth Red Rose
Winner of many Championships at County level as a 2 & 3 year old. Champion Section C at the Royal Welsh as a 3 year old sadly
lost to grass sickness the following spring.
Fronarth Red Rose
Synod Roger
Synod William
Tydi Rosemary
Lleuci Queen
Brenin Dafydd
Derwen Chess